The Most Comprehensive Baby Chick Checklist Anywhere!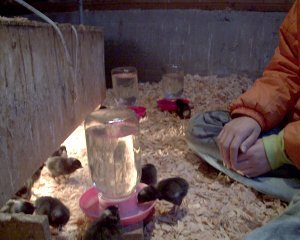 Raising day-old chicks isn't hard, and is delightful when everything turns out right. but doing it right involves a number of steps. You'll have more success and fewer surprises if you use this handy checklist to stay on track.
This checklist is adapted from my book, Success With Baby Chicks. Some items in the checklist point you to different chapters in the book if you need more information.
Before Ordering Your Day-Old Chicks
Prepare the Brooder Area
If you don't already have a brooder house, build one or adapt an existing structure. See Chapter 14.
Clear away any brush or trash that may have accumulated around the brooder house.
Examine the brooder house for leaks in the roof, gaps in the floor, and rat holes—and fix them.
If there are signs of rodents, set out traps or bait now, so the rodents are gone before the baby chicks arrive.
If there is an infestation of roost mites or other noxious bugs, treat the brooder house now. This is most likely if other poultry have been kept in the house until recently. See Chapter 15.
If there is old litter in the house, decide whether you are going to re-use it. If so, prepare it as described in Chapter 13. Otherwise, remove the old litter and put in new.
Acquire or build a brooder, draft guard, baby chick feeders, and baby chick waterers. See Chapter 5.
Remove any feed left over from last time. Day-old chicks need fresh feed.
Unless the weather is hot, close up the brooder house by closing all the windows and covering any sizable openings with tarps, sheets of plastic, or plastic feed sacks.
DANGER! If you are using vent-free propane brooders, it is possible for carbon monoxide to build up to lethal levels in a tightly closed brooder house. Install a carbon monoxide alarm if you're going to use propane brooders in a tight house.